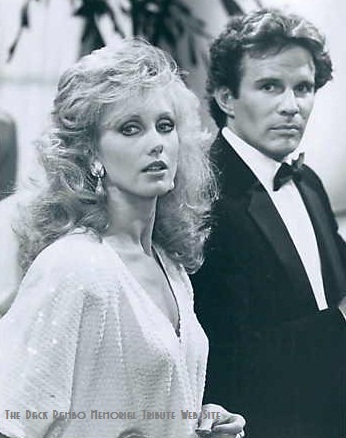 Dack with friend and co-star, Morgan Fairchild in a Scene From "Paper Dolls".


Another World
A web page with character information and filled with photos of Dack as "Grant Harrison" from the daytime serial "Another World."
Handsomest Actors of the 70s
Dack and a group of the handsomest, sexiest men from the 70s are featured.
.
The official web site of the TV show "Dallas". Dack's biography appears here.
Teen magazine page on Dack. "A New Face To Love".
A fan page for Shalane McCall ("Charly") from Dallas featuring photos of Shalane and Dack on the set. Note that this link is used by permission of the site, but on occasion can be difficult to click into.
Click the TV show title ("Guns of Will Sonnett") to view Dack Rambo and

Walter Brennan in a video via Real Player.




This recipe site has an original Dack Rambo Crabmeat Casserole recipe. Bon Apetit!

Great place to look for clips, videos, scenes of Dack. I do try and feature different

ones from time to time here at the web site.

Informational Page of Celebrities, this link goes to the Dack Rambo page.

An informational page on Dack Rambo.

Full article ("Dack Rambo's Brave New World") for view. One of Dack's last public

interviews.

Submitted here respectfully, is the geographical location and a photograph of the

final resting place of the late Mr. Norman "Dack" Rambo, actor/activist.

His twin brother, Orman "Dirk" Rambo's final resting place can be found via the

same link.

Free virtual flowers for Dack (and Dirk) may be left here with a message.
You can sign the site Guest Book by clicking the icon below.