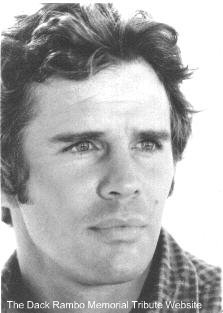 Birth Name: Norman Rambo
Birth Date: November 13, 1941
Birth Place: Earlimart, California
Vocation: Actor
Height: 6' 0" Weight: 165 Hair: Brown Eyes: Blue
Education: Studied acting with Lee Strasberg and Vincent Chase
Avocations/Interests: Tennis, Jogging, Horseback Riding, Racquetball
Family: Lester (father, deceased), Beatrice (mother, deceased), Bill (older brother), Beverly (younger sister) and Dirk (twin brother, deceased)
Memberships: National Academy of Arts & Sciences, Mothers Against Drunk Driving
Founder: Dack Rambo Productions
Date of Death: March 21, 1994
Place of Death: Earlimart, California
Burial Site: North Kern Cemetary, Delano, Kern County, California
Twin brothers Norman "Dack" and Orman "Dirk" Rambo were discovered by actress Loretta Young, while sitting in a church pew and soon cast in her 1962-63 TV series ("The New Loretta Young Show") as her character's twin sons.
Dirk Rambo had small successes in TV early on, with portrayals in shows such as "The Virginian" and "Dragnet".
An untimely car crash, inwhich he was hit by a drunk driver, ended his promising career in 1967. He was 25.
Brother Dack continued as a working Hollywood actor, specializing in TV drama and lower budget action/adventure films.
Rambo (also credited in his career as Dack "Rambeau") made his feature film debut, however, in a comedy. Jerry Lewis' "Which Way To The Front?".
He segued into drama and westerns, starring in several series, such as "The Guns of Will Sonnett", "Dirty Sally" and "Swords of Justice".
His notable prime time guest appearances became numerable.
Most recognized and typed as a romantic leading man, Dack Rambo's softened, yet high-brow good looks were also in high demand for soap opera roles.
The early 1980's found him starring in daytime TV's "All My Children" as "Steve Jacobi", mid to late 80's in night time serial "Dallas" as "Jack Ewing", and in "Another World" during the early 1990's, as "Grant Harrison".
It was during this time, in 1991, Rambo discovered that he was HIV-positive, and chose to retire from acting and commit himself to AIDS activism and public awareness.
Through increasing public knowledge, service announcements, fund raising, and working in conjunction with AIDS Project Los Angeles with clients, Rambo looked toward making a difference as well as helping himself cope with day to day living with the virus.
After spending the next few years speaking out publically on his formerly "spicy" lifestyle of bisexuality, advocating safer sexual practices and working with French virologist, Dr. Luc Montagnier, of the Pasteur Institute in Paris, helping to establish an international data bank for AIDS research, Dack Rambo passed away at age 52, shortly after being admitted to Delano Regional Medical Center.
His final film appearance was in "Ultra Warrior".
Written by K. J. Tanner.
Material copyrighted by author.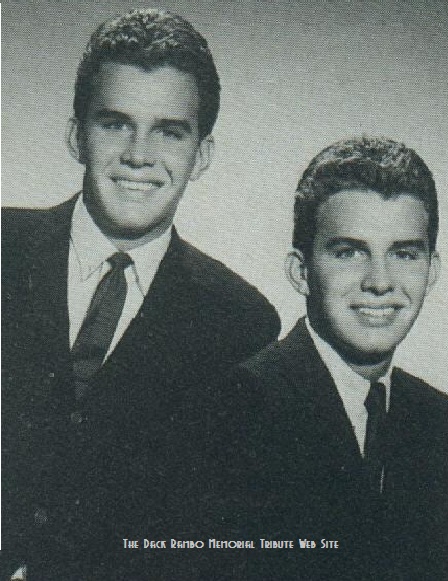 Click below icon to sign to Dack Rambo Memorial Tribute Guest Book.